About Reef Family Pharmacy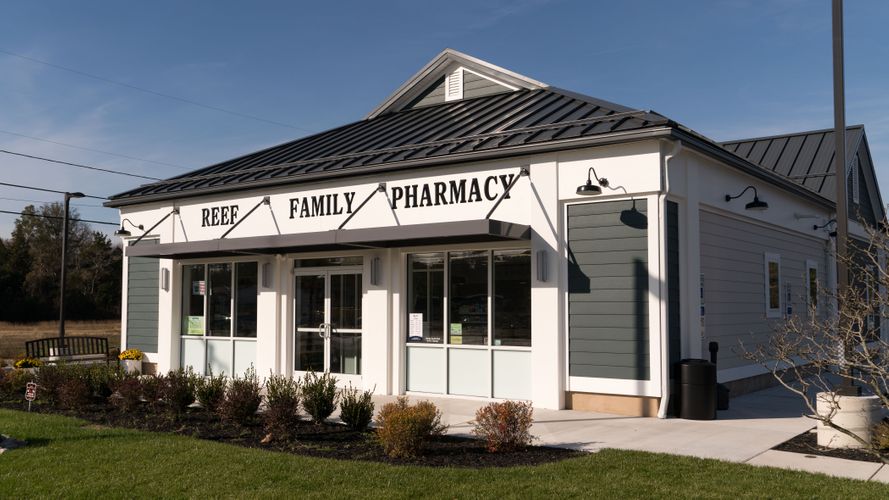 Reef Family Pharmacy is a full-service pharmacy located at 1037 Route 9 South, Cape May Court House NJ. With a focus on personalized service, Reef Family Pharmacy distinguishes itself from the chain stores through free patient consultations, customized compounding for patients and their pets, all natural Estrogen and Progesterone cream or capsules, a wide variety of over-the-counter medications and free prescription delivery in Cape May County.
Free Consultations
Scott Reef is available to answer your medication questions. Best of all, it's free and it's confidential. Learn what you need to know about your condition, and the medications available to treat it. Discuss in depth all you need to know. Stop by for your free consultation today.
Are You A Summer Resident?
We can help you to switch your prescriptions to Reef Family Pharmacy just for the summer. Just let us know your year-round pharmacy's contact information, and we'll do the rest.
Free Delivery
We know how difficult it can be to run to the pharmacy when you're not feeling well. That's why we provide free prescription delivery throughout the Cape May Court House area. Just give us a call and we'll get the medication you need right to your doorstep.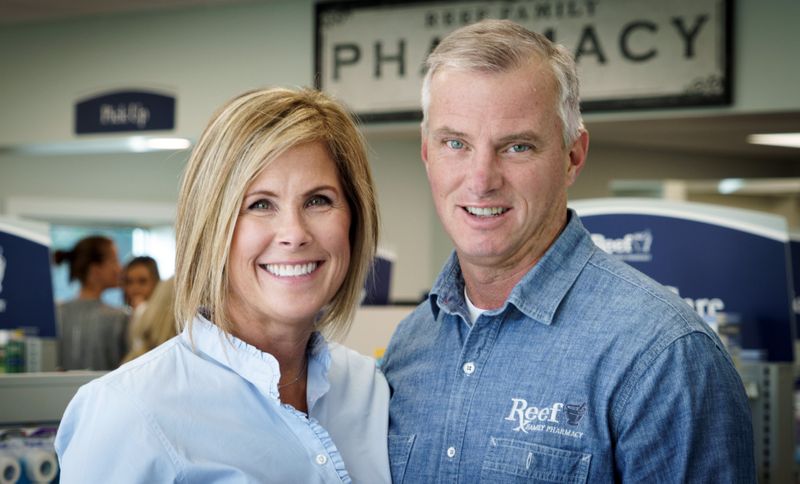 Meet Scott And Amy Reef
Scott Reef learned early on how to treat customers. At age 17, while working at a local pharmacy, he found the path to success was to get to know your customers. That way, he could make the right recommendations for their health. "Not only is it good for business; it's the right thing to do," he said.
Now at the helm of his own business, Scott continues that philosophy at Reef Family Pharmacy, which he and his wife, Amy, opened in 2009. "I really enjoy the interaction with the patients and trying to help them feel better. It's what I find rewarding about this business."
After earning a Bachelor of Science degree at Temple, Scott worked at Rite Aid and CVS. In 2002, he opened a franchise of the Medicap Pharmacy in Cape May Court House. When the Medicine Shoppe acquired the franchise, Scott cancelled his franchise agreement."We had gone from a small family-owned franchise, where everyone knew your name, to a corporation," said Scott. "It changed the whole culture. I wanted to bring back that personal touch to my patients."
Scott and his wife Amy opened Reef Family Pharmacy at the same location in Cape May Court House. He handles the medical side of the business; she does the books and the merchandising. Reef Family Pharmacy carries the full range of over-the-counter medications and personal grooming and healthcare supplies—just not in the same quantities as a large chain store.
On the prescription side of the business, Scott takes his time with each patient. Consultations are free, with no appointment needed. There's also free prescription delivery throughout Cape May County. If you're a summer resident, Scott will help you transfer your prescriptions temporarily to Reef.
The pharmacy also does customized compounding for patients and their pets. "If there's a particular dosage of a medication that's not commercially available, we'll get the raw ingredient and make it," explained Scott. "We do a lot of hormone replacement therapy that is not available commercially, using all natural Estrogen and Progesterone. We also can convert tablets to liquid for people who cannot swallow pills. In addition, we can make veterinary medications for a fraction of the cost of a product's retail price."
Scott also feels it is important to be involved in the community. The pharmacy works with Volunteers in Medicine, donating prescription medications to patients in need.
"We are part of the community," he said. "We see our patients out and about in Cape May County, at school events or at the grocery store. It's one of the nice parts about doing business where you live.
Brian Roth - Compounding Pharmacist
COURT HOUSE – Compounding, the art and science of creating personalized medications for patients, is a hallmark of Reef Family Pharmacy. Now a second pharmacist on staff joins owner Scott Reef as a compounding specialist. Brian Roth brings 30 years of compounding experience gained at his own stores, formerly in Central, Pa.
"Brian is a true artist when it comes to compounding," said Scott Reef, owner and pharmacist at Reef Family Pharmacy. "He takes the time to get the textures just right, using techniques that produce 'cosmetic grade' creams. With his advanced skill set, our customers get the best possible product that is personalized for their needs."
Compounded medications are made 'from scratch' by mixing ingredients in the exact strength and dosage for a patient. They are commonly used in hormone replacement therapy and pain creams. Compounding also may be used to make medications that taste more appealing for young children or people who cannot swallow pills, or to prepare veterinary grade medicines for pets. At one time, all medications were compounded but that changed with the advent of the mass produced medicines in the 1950's and 1960's.
Compounding is legal throughout the U.S. and pharmacies that offer this service must meet all Food and Drug Administration (FDA) requirements. Patients still need to bring a doctor's prescription in order to get a compounded medication.
"Mass produced medications are a one-size-fits-all product that doesn't always work for every patient," said Reef. "For example, if a patient is allergic to a certain dye or preservative in prepared medication, compounding can provide an alternative. Also, when treatment requires tailored doses, compounding can deliver exactly what the patient needs."
Pharmacist Brian Roth graduated from Philadelphia College of Pharmacy & Sciences in 1988 with a Bachelor of Science Degree in Pharmacy. Brian trained in Texas in 1990 at Professional Compounding Centers of America and has completed numerous specialty compounding seminars over the years to keep on the cutting edge.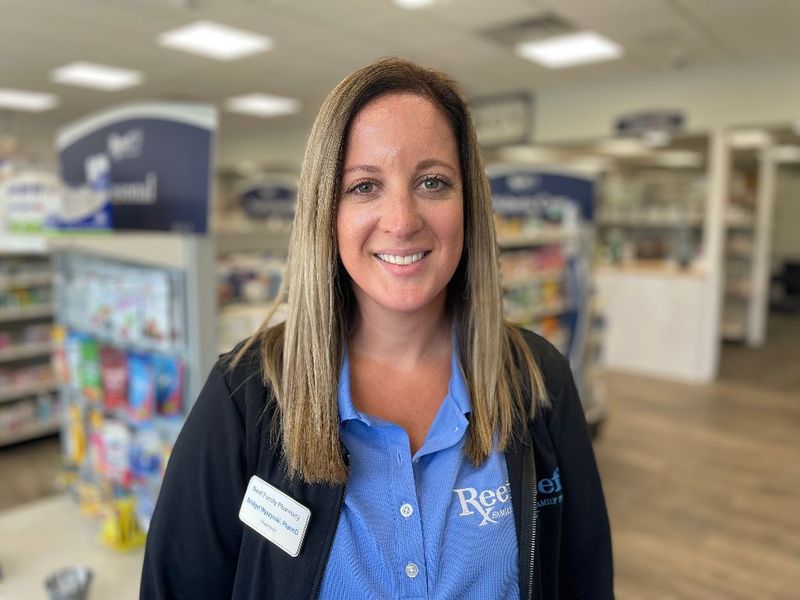 Bridget Wyszynski - Pharmacist
Bridget Wyszynski, PharmD, has joined the pharmacy team at Reef Family Pharmacy, the full service independent pharmacy in Cape May Court House. Bridget will work with Scott Reef and Brian Roth in filling prescriptions, providing medication counseling, and offering COVID-19 and flu rapid testing, and vaccinations for COVID-19, flu, shingles, and more.
"We're adding top talent to the pharmaceutical team so that our customers have expanded resources and support when they need it," said Scott Reef, owner and pharmacist at Reef Family Pharmacy. "We're thrilled to bring Bridget on board. Her caring nature, combined with her extensive training, makes her ideal to deliver the personal touch and professional expertise for which we are known."
Bridget chose to join Reef because it's an independent pharmacy. "With the bigger chains, you don't have time to get to know the customers or even to speak with them for more than a minute," she said. "I love the customer interaction at Reef Family Pharmacy. It's a true family, and I look forward to getting to know all of our customers."
Bridget is a graduate of the six-year pharmacy degree program at the University of the Sciences in Philadelphia. She brings 17 years of experience, including work at retail chains, independent pharmacies, an IV infusion pharmacy, and a hospice and mail order program.
In her new role at Reef Family Pharmacy, Bridget is coordinating the pharmacy's medication synchronization program. For patients who take a lot of medication, she is helping to move their prescriptions to the same fill dates for more convenient pickup or delivery. "People sometimes come from great distances to visit us at Reef Family Pharmacy, and this will help reduce the number of extra trips that they have to make," said Bridget.
Bridget is a recent Cape May County resident. She and her husband moved here in March. When she's not working, she enjoys spending time at the beach and with family.